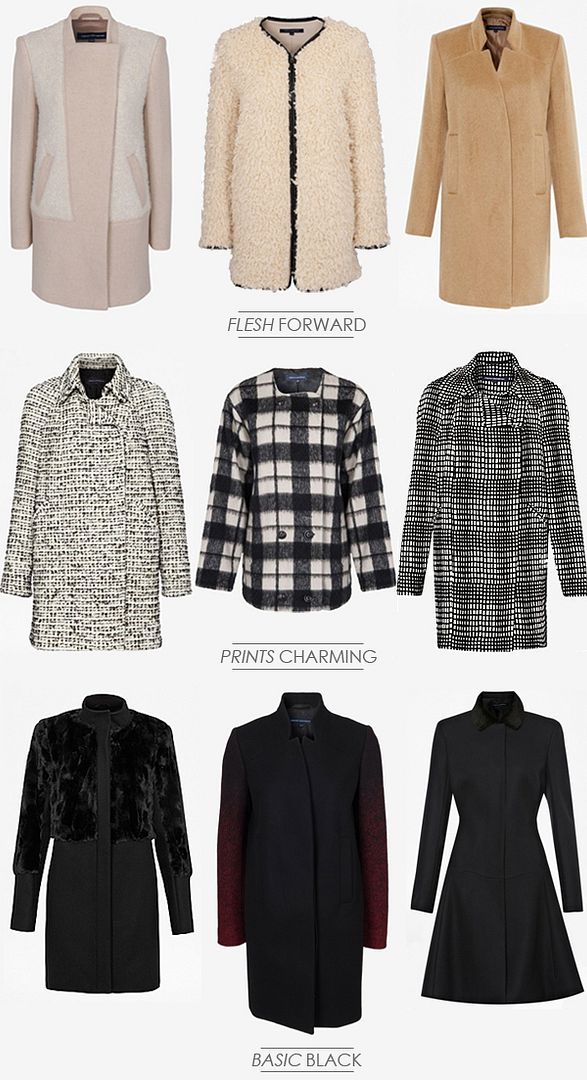 D
epending on where you live and how big a role winter-wear plays in your life, you'll know that January is the best time of year to pick up a new coat (or two). Sale season is in full swing, which means stocking up on cozy outerwear like it's going out of style...
So to speak, of course
. Right now I'm into fleshy tones, prints and basic blacks in the coat department, so when
French Connection
asked me to round up my favourite coats from their current (and reduced) collection, I couldn't help but narrow down my focus to those three categories. I find that pastel or camel outerwear generally take an outfit to the next level, while printed coats shine with bright pops of colour or complimentary prints. I save black coats for particularly crazy outfit days to minimize the amount of puzzled stares I generally get, or when a girl just needs a little
something something
to give the illusion of a slimmer silhouette... And considering that most of us just ate our weight in holiday treats, this last option is looking mighty appealing right about now.
From left, Flesh Forward: Neat Weave Zip Through Coat | Santorini Coat | Divine Dorothy Coat
Prints Charming: Electric Checked Oversized Boucle Coat | Checked Bunny Coat | Penelope Pop Checked Coat
Basic Black: Ali Faux Fur Coat | Ombre Dustls Coat | Queen Coating Flared Coat
This post was sponsored by French Connection. All opinions shared are my own.